Helena Schoeters (vocal)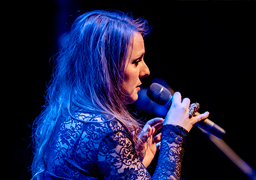 toured as a soprano singer all around Europe. She mixes in a unique way classical and traditional elements in her voice, which makes her the perfect interpreter of Osama Abdulrasol's compositions.
Helena
As a child I was fascinated by folksongs and French 'chansonniers'. Renaissance and baroque music became my first real love in the music academy. Opera and lied found a way to my heart through the conservatory. Traditional music never ceased to touch and tempt me. Arabic music crossed my path. This is who I am. This is how I sing.
Sopraan Helena Schoeters
studeerde klassieke zang aan de conservatoria van Brussel en Antwerpen. Ze speelde mee in verschillende muziektheater- en dansproducties vormt een vast liedduo met pianiste Axelle Kennes. Helena's interesse gaat echter verder dan het louter klassieke en ze vertoeft graag op plekken waar verschillende muzikale genres in elkaar overvloeien. Ze deelde het podium met artiesten als Dick Van der Harst, Henk De Laat, Philippe Thuriot, e.a. Ze maakt deel uit van Lami Trio, een ensemble met qanunspeler Osama Abdulrasol en cellist Lode Vercampt, waar Oost en West elkaar vinden.